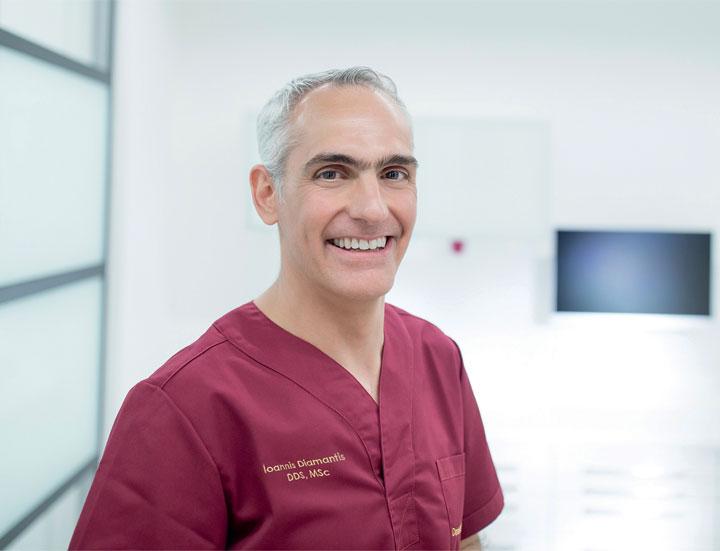 Short Bio
Dr. loannis Diamantis is a graduate of the National and Kapodestrian University of Athens, School of Dentistry and has 24 years of experience working as an Oral Surgeon, in Greece and abroad, (mainly in Germany), specialized in the broad field of Oral Surgery, Oral Implanlology. Bone and Soft Tissue Grafting and Minimal Cosmetic Intervention (outpatient basis).
After graduating, he continued her studies in N.K.IJ.A. where he got his Master Degree in Oral I'athobiology and the Clinical Specialty of Oral Surgery He followed a Special Surgical Training on Advanced Bone Grafting Procedure in USC. I..A. CA. And a special training in Minimal esthetics Intervention (toxins and fillers), in London U.K.


His practice is limited in Oral Surgery and maintains a private practice in Athens since 2002 and since 2019 he practices, also, in Dental Medicine Athens Clinic.
Since 2006. Dr. loannis Diamantis is a consultant for Ospol AB & Osstcll AB


Since 2020. he is a coordinator and trainer for the Hellenic Society of Odonlostomatological, in the implant curriculum (associated to the Deutsche Gesellschaft fur Orale Implantologie
He is a member of:

 

 

He is a member of: - Hellenic Society of Odontostomatological Research (EOE) «Full member» - Hellenic Dental Society of Oral Surgery (HDSOS) «Active Member» European Association of Osseointergration - Hellenic Society of Oral implanlology.
.
Profile
Training & Experience

National and Kapodestrian University of Athens (N.K.U.A.) USC, Los Angeles, CA

Clinical Interests /
Specialization

Oral Surgery implantology
Advanced Intraoral Bone Grafting
Endodontic Microsurgery
Masculatory Disorder Treatment (toxin injection)
Minimal Facial Cosmetic, Esthetic Intervention (fillers, toxin)
Clinical Consultant for Ospol AB Osstell AB
Coordinator and trainer for the Hellenic Society of Odontostomatological Research, in the Implant Curriculum (associated to the "Deutsche Gesellschaft fur Orale Implantologie")

Research Interests

Pediatric Oral Surgery and Trauma Basic Science and Research Biostatistics
New Technologies m Dentistry Advanced Bone Grafting Innovative Techniques in Surgery

Conditions Treated

Oral Surgery (extraction, soft tissue excision etc)
Endodontic Microsurgery
Bone Grafting
Soft Tissue Grafting
Laser application
Minimal Esthetic Intervention

Publications

In Greek and English (papers, posters, oral presentations)

Other Locations

Accreditation and Insurance
-
Medical Team