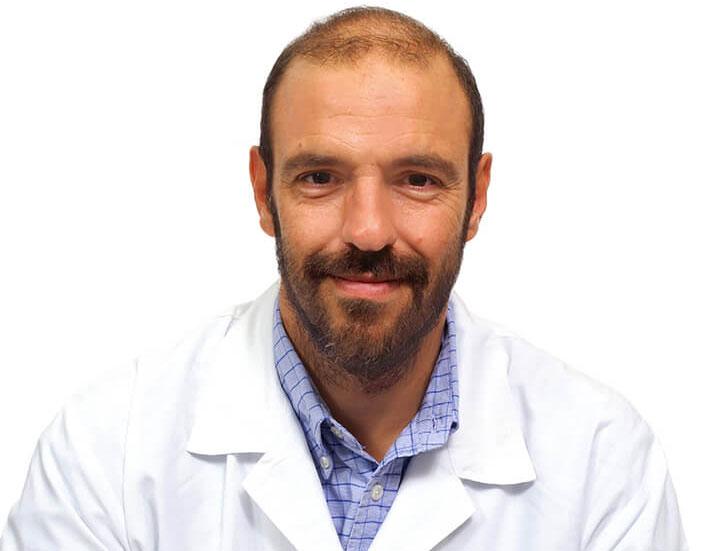 Short Bio

My name is Panagiotis Karagounis and I am a Consultant of Physical Medicine and Rehabilitation (Physiatrist) with specialization, clinical and research experience in the treatment of acute and chronic musculoskeletal pain, spinal cord disorders, orthopedic and neurological rehabilitation, sports medicine traumatology and pathology, as well as in ultrasound evaluation of the musculoskeletal system.
I have extensive clinical experience in performing injections (pharmaceuticals, PRP autologous blood factors and butulin toxin injections) under ultrasound guidance, as well as in medical acupuncture and mesotherapy/prolotherapy.
I completed my residency at the General Hospital of Athens (KAT), while I have been trained in Marseille (France), in the analysis and treatment of postural and gait disorders and in Ankara (Turkey), in diagnostic ultrasound for the diagnosis and treatment of musculoskeletal system diseases and sports injuries.
I hold a master's and doctoral degree from the National and Kapodistrian University of Athens, specializing in Sports Medicine, where I received scholarships from the Onassis Foundation and the State Scholarships Foundation (IKY).
I specialized for 2 years in medical acupuncture at the Acupuncture Training Institute of Greece.
I hold the European Qualification of Physical Medicine and Rehabilitation (FEBPRM).
I am a member of the medical team of the Hellenic Taekwondo and Judo Federations.
I am a member of the World Society of Physical Medicine and Rehabilitation, the Hellenic Society of Physical Medicine and Rehabilitation, the Hellenic Society of Algology and the Hellenic Society of Sports Medicine.
I am the scientific medical director of the Physical Medicine and Rehabilitation Department at the Metropolitan Hospital, Neo Faliro.
I am the Medical Officer  of the Football Academies of Panathinaikos F.C.
I am the coordinating physician of the rehabilitation program at the Galini and Sinouri Psychiatric clinics (Kifisia).
I am a doctor of Physical Medicine and Rehabilitation at the Cerebral Palsy Greece "Open Door".
I am an associate physician at the B´ Rehabilitation Clinic of the National Rehabilitation Centre (EKA).
I have authored a large number of scientific publications in international and Greek journals and oral and poster presentations in Greek and international conferences, where my main research interests focus on the treatment of spasticity in cases of cerebral palsy, spinal cord injury and stroke, acute and chronic ascending cardiovascular adaptations, the use of complementary therapies (acupuncture, mesotherapy, prolotherapy) to reduce musculoskeletal pain, the usefulness of ultrasound guidance for injections, the evaluation of foot disorders, and the evaluation of biomechanical parameters to prevent sports injuries.
.
Profile
Training & Experience

- MD, MSc, PhD from the National and Kapodistrian University of Athens.
- General Hospital of Athens (KAT).
- Training at Marseille and Ankara.
- Scholarships from the Onassis Foundation and the State Scholarships Foundation (IKY).
- Acupuncture Training Institute of Greece.
- The medical teams of the Hellenic Taekwondo Federation, the Hellenic Judo Federation, Athinaikos women's basketball team, the Melissia Sports Club, the Football Academies of Panathinaikos F.C.
- Scientific Medical Director of the Department of Physical Medicine and Rehabilitation at the Metropolitan Hospital.
Rehabilitation Specialist at Filoktitis Rehabilitation Center.
- Coordinating PRM Specialist of the rehabilitation program at the Galini and Sinouri psychiatric inpatient clinics.
- Physical Medicine and Rehabilitation Specialst at the Clinic of Cerebral Palsy "Open Door".
- Associate physician at the B´ Rehabilitation Clinic of the National Rehabilitation Center (EKA).

Clinical Interests /
Specialization

Sports Medicine
Musculoskeletal Rehabilitation
Neurological Rehabilitation
Regenerative Medicine

Research Interests

Arterial adaptations in elite athletes
Aseptic inflammation in ultramarathon runners
The role of transcranial direct current stimulation-TDCS in the rehabilitation of stroke patient

Conditions Treated

Musculoskeletal Disorders
Neurological Disorders
Sports Injuries

Publications

In National and International Journals

Other Locations

Accreditation and Insurance
-
Medical Team