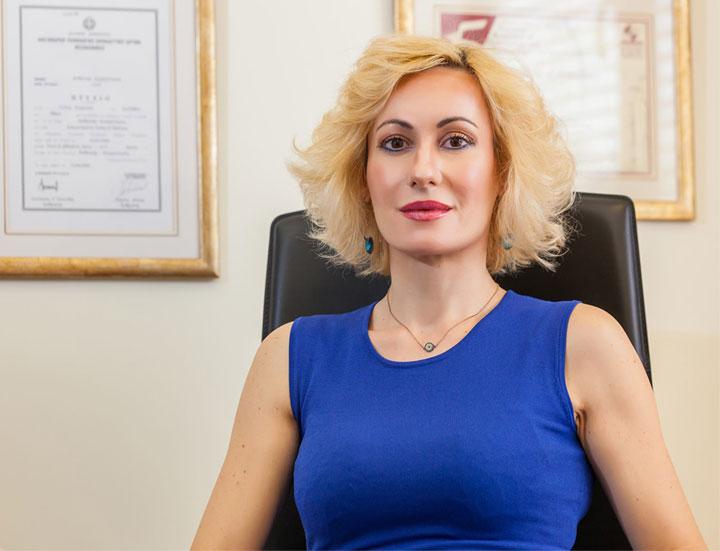 Short Bio
Doctor Geleki Stamatina graduated from the medical and surgical school of the University of Sienna, Italy with honors and from the school of aesthetics and cosmetology of T.E.I. Thessaloniki with excellence.
She trained and specialized in Dermatology and Venereology at the Andreas Syggros Hospital of Athens and at the Kingston Hospital of London, as well as in the diagnosis and study of melanoma where she is completing her PhD.
She has attended numerous conferences and seminars and specializes in aesthetic cosmetic dermatology and lasers with over 20 years of experience
She speaks fluent English, French and Italian.
.
Profile
Training & Experience

- Andreas Syggros Hospital of Athens (Dermatology-Venereology).
- Kingston Hospital of London (Dermatology-Venereology).
- 424 Military Hospital of Thessaloniki (Internal Medicine).
- Dermatology clinic MECHHINO (Siena Italy) for 7 years.
- Laser Department Hospital of Sutton.
- Dermatology clinic KANTOUNIS (Thessaloniki Greece) for 4 years.

Clinical Interests /
Specialization

- MELANOMA AND SKIN CANCERS
- PEDIATRIC DERMATOLOGY
- SURGICAL DERMATOLOGY
- HAIR AND NAILS DISORDERS
- ACNE
- AESTHETIC-COSMETIC DERMATOLOGY
- LASERS

Research Interests

- MELANOMA AND SKIN CANCERS
- LASERS
- ANTI-AGING TREATMENTS

Conditions Treated

- SKIN-HAIR-NAILS AND VENEREAL DISEASES.
- PEDIATRIC DERMATOLOGY.
- ACNE.
- EXCISION OF SKIN AND NAIL TUMORS-LESIONS.
- INJECTABLES.
- LASER TREATMENTS.
- AUTOIMMUNE DERMATOLOGY DISEASES.

Publications

Other Locations

Accreditation and Insurance
-
Medical Team