Member of the Board & Head of Technology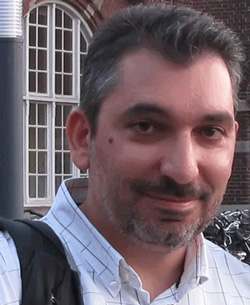 Nikolaos Kyriakoulakos
Nikos is a Technical Manager at Apollo SA - a Healthcare IT relative Company with many years of HL7 consulting and implementation experience. He holds a Diploma Degree in Computer Engineering & Informatics from the University of Patras Greece.
He is successfully and actively participates in a lot of projects in the field of Health Informatics and Interoperability (EMR, EHR, PHR, HIE). He is also a certified HL7 control specialist with more than 10 years of experience in this field. He is involved in implementations, training and conference presentations relative to HL7 and HL7 Hellas.
He is also a passionate software engineer in the field of Enterprise Integration and Integration Architectures using Open Source and Commercial technologies and products.
Specialties:
- HealthCare Informatics standards ( HL7, IHE, DICOM, CDA, FHIR)
- Clinical Information Modeling based Software Development HL7 V3, RIMBAA, Art-decor and Gazelle tools
- Healthcare Infrastructure Networks and Healthcare Information Exchanges (HIEs)
- Clinical and medical registry Data Analysis, Patient behavior and sentiment data
- Integrated Healthcare Enterprise (IHE) profiles - Open Source Tools Implementation
- EIP, ESB, SOA and Integration Architectures (Apache Camel, ActiveMQ, Apache Service Mix, Fuse ESB)
- Orion Rhapsody, Mirth Connect
- Java, C#, PHP, RoR Languages
- IoC / DI frameworks and modular architectures
- CMS Integration for Drupal and Liferay
- Agile Development and Project Management Practice
- ISO 9001/2008 - ISO 13485:2003 Quality Management Systems
Undefined