Thess Residences
4* Hotel in the center of Thessaloniki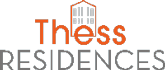 Summary
Type of hotel

4* Hotel in the center of Thessaloniki

Address

20 Gladstonos Str, 54630 Thessaloniki, Greece
.
Short Description
Thess Residences is a newly established hospitality complex of luxury yet affordable flats right in the heart of the city centre and in one of the "hottest" areas of Thessaloniki (or Saloniki as mostly called in Greece). Offering novel self-catering apartments serving as short or long term rentals in Thessaloniki, Thess Residences is your personal residence in Thessaloniki whatever your visiting schedule, from a few days until a few months; whether you are looking for vacation apartments for rent in Thessaloniki or you are travelling for business, Thess Residences offers a variety of luxury flats to serve all needs.
.
Location
Thess Residences is a newly established, fully refurbished hospitality complex of urban apartments in Thessaloniki and, undeniably, one of the best places to stay in Thessaloniki either you are travelling for vacation or business. Boasting an amazing location, right in the city centre and at walking distance from some of the top Thessaloniki's landmarks and points of interest. Just a few steps from the popular Agiou Dimitriou Street, Thess Residences is a very convenient starting point for your explorations of the city, its contemporary hotspots, like Paralia (aka the waterfront) and Bit Bazaar, as well as its cultural marvels, like the Holy Apostles church and Ano Poli (the old town of the city). Take the time to study your options in the convenience of your luxury apartment, ask your Residence Manager to help you plan the best things to do in Thessaloniki and start the discovery of this stunning city in only a few minutes.
Accommodation
- Comfort Residence
Ideally designed for two, the Comfort Residence offers an urban sense of city living. Covering 27 s.q. meters of inviting comfort, it provides complete housing facilities. Daylight, one double bed, spacious cupboards and a flat smart TV enhance your stay.
- Deluxe Residence
Deluxe Residence, this spacious residence of 35 s.q. meters is designed for up to 3 persons. Friends or family, there is space for all. One double bed and a large sofa plus an extra bed can also give space for your get together s when planning your day.
- Junior Thess Residence
This modern, spacious residence of 40 s.q. meters is designed for up to 3 persons. Separate bedroom area, a modern living area host friends or family, there is space for all.One double bed and a large sofa, can also give space for your get together s when planning your day. Fully equipped kitchen allows group cooking and tasting local delicacies. Bath room with walk in shower.
- Thess Residence
Thess or Classic Residence is your private home in Thessaloniki. Covering almost 60 sq. meters, offers you and your company the luxury of doing whatever you like.Separate bedroom area, a modern living area with space for a large sofa bed plus two extra roll-out beds.
- Family Residence
Family Residences are designed to accommodate small or bigger families.There is enough space for you all. 60 s.q. meters allow separate bedrooms and bathrooms, 2 flat smart TV' s, living area, fully equipped kitchenette and all electrical appliances.
- Executive Residence
Executive Residences are designed to accommodate the ultimate luxury city living.Friends or families enjoy the 90 sq.m. accommodation offering two large bedrooms, two separate bathrooms, a comfortable living room and fully equipped kitchens.Organize private dining, get your favourite wines delivered to your dining table and relax or just enjoy peace and quiet at your own Home away from Home.
Facilities
We can arrange for you upon request:

 - Beauty Salon
 - Wellness & Spa
 - Housekeeping
 - Transfers
 - Dry Cleaning
 - Excursions
 - Eat & Drink
Experiences
 - Wine Tours
Succumb in the world of fine Greek wines in some of Greece's most prestigious wine-making facilities, such as Alpha Estate, Lazarides Estate, Mpoutaris and Tsantalis and, of course, the renowned Gerovasiliou winery.
 - Hammam
Pamper yourself with an authentic hammam session by the hands of Polis Hammam amazing therapists. Treatments that promote health and wellness and derive from the daily routine of Ancient Greeks are at your disposal and together we can find your best match.
 - Thessaloniki in 48 hours
Even if your stay in Thessaloniki is really short, worry not. You still have time to enjoy many of its marvels and explore the multi-faced personality of this extraordinary city. Our travel-expert team has put together a superb plan for you to make the most of your 48 hours in the city.
 - Thessaloniki in more than 48 hours
If you are lucky enough to enjoy more than 2 days in Thessaloniki, we have prepared some suggested itineraries filled with unique local experiences and exciting activities.
 - Trips & Excursions
Since you have explored the heart of Thessaloniki and got to know it so well, you can now enjoy a boat ride to Pera and Kalamaria, seaside suburbs of the city. Small "pirate" boats, await you at the seafront. Working as cafeterias and bars as well, they allow you to enjoy your drink while traveling across the calm waters of the Thermaic Gulf. Enjoy your fish and ouzo, while your feet dive in the sea sand in one of the numerous tavernas in Perea. Return to walk Vasilissis Olgas Avenue, a street filled with Neoclassical buildings and 19th century architecture.
You can also choose to take a day trip to the archaeological sites of Pella or Vergina, or, if the weather is really nice, go to Chalkidiki to take a swim in its crystal clear waters that truly remind you of Greek island.