Professor of Strategic Management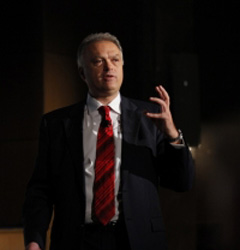 Yannis Pollalis
Yannis A. Pollalis, is a professor in the Department of Economic Science since 1999. He holds a PhD in Business Strategy & MIS from the University of Pittsburgh's Katz Graduate School of Business, an MBA (with double major in Finance & Operations) from the University of Scranton's Graduate School of Management and a BSc in Economics from the University of Piraeus. During 1993-1999 he was a professor of Strategic Information Systems at Syracuse University's School of Information Studies, while collaborating in research projects with the University of Southern California's Annenberg School of Communication.
He is the founder of the Graduate Program in Economic & Business Strategy at the University of Piraeus in Greece (served as director during 2001-2011).
He is also the founder and director of the Research & Training Center in Digital Transformation & Strategic Leadership (iLEADS Lab).
In the Greek public & private sector he has chaired numerous committees for the development of information systems and has been special technical consultant in many projects, especially in the areas of strategic business planning, reengineering, and e-procurement.
He has also served as a Keynote & Motivational Speaker and a consultant in Strategic Management, Marketing & Branding, Leadership, E-Business, Digital Transformation, Digital Disruption, Growth Mindset, Motivation, Coaching, Emotional Intelligence, Teamwork & Train-the-Trainer workshops.
Professor Pollalis teaches in undergraduate, graduate and doctoral programs, as well as, in executive development & training courses and has received numerous Teaching Excellence Awards. He has published 17 books in the areas of management, strategic planning, information management, e-business, marketing, organizational behavior and corporate strategy. His research has been funded by the Onassis Public Benefit Foundation, NATO's Science & Research Programand the European Network for SMEs Research.
He is in the editorial board for The International Journal for Information Management, The Journal of Marketing & Operations Management Research and has served as Associate Editor forthe Journal of Applied Systems Studies (JASS). He is also a member of the European Defense Skills Partnership (EDSP) Committee, sponsored by the European Commision & RAND Corporation, Brusssels, 2018-2019.
Undefined