Cosmetic Dental Center Athens
Prosthodontics - Cosmetic Dentistry Clinic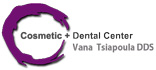 Summary
Specialization

Prosthodontics - Cosmetic Dentistry

Location

15 Dim. Soutsou Str., Mavili square, Athens, 11521
.
Short Description
A team of highly specialized, experienced dentists (Prosthodontist/Aesthetic Dentist, Endodontist and Oral/Maxillofacial Surgeon/Implant Dentist) in a modern, state-of-the art environment with English speaking staff.
The Prosthodontist/Aesthetic dentist, with decades of experience providing patients with aesthetic direct restorations and bleaching, is also responsible for all restorations ranging from a simple crown to a full mouth rehabilitation, including implant supported restoration with the co-operation of our Oral Surgeon/Implant dentist.
The Endodontist treats all root canal therapies and retreatment of root canal therapy.
The Oral Surgeon/Implant dentist is responsible for all intra-oral surgeries performed with local anesthesia including implant placement, bone grafting, pre-prosthetic surgery, tooth extractions and ridge preservation and augmentation. 
.
Clinic Departments/Treatments
| Description | Analysis | Cost |
| --- | --- | --- |
| Crown (all ceramic) | Full coverage indirect restoration fabricated with two ceramic materials (Zirconia & Glass-ceramic layer) | 570€ |
| Implant supported crown | Full coverage indirect restoration fabricated with a single ceramic material (Zirconia) and a Titanium implant base | 600€ |
| Direct Composite Veneer (anterior teeth) | Full coverage indirect restoration fabricated with a single ceramic material (Zirconia) | 400€ /unit |
| Bridge (PFM-Porcelain fused to metal) | Full coverage indirect restoration fabricated with a metal framework layered with ceramic material (Glass-ceramic) | 420€ /unit |
| Implant supported bridge | Full coverage indirect restoration fabricated with a single ceramic material (Zirconia) and a Titanium implant base or with a metal framework layered with ceramic material (Glass-ceramic) | 600€ /unit |
| Veneer Glass-Ceramic | Porcelain veneers covering the buccal (front) surface of the tooth | 550€ /unit |
| Inlay-Onlay Glass-Ceramic | Partial coverage indirect restoration fabricated with a single ceramic material | 400€ /unit |
| Direct Composite Veneer (anterior teeth) | Composite Resin direct restoration covering the buccal surface of the tooth (minimal invasion approach) | 200€ |
| Composite Restoration (posterior teeth) | Composite Resin direct restoration covering the mount of the tooth missing (minimal invasion approach) | 100 - 150€ |
| Bleaching (home) | Teeth bleaching – Material application at home by the patient (1-3 weeks) | 350€ |
| Bleaching (clinic) | Teeth bleaching – Material application in the clinic by the dentist (1-2 sessions) | 400€ |
| Bleaching (combination) | Teeth bleaching – Material application both at home and in the clinic (1-2 weeks) | 500€ |
| Hygiene maintenance (60 mins) | Maintenance includes supra and subgingival debridement, surface polishing and Oral Hygiene guidelines | 80€ |
| Root Canal treatment | Treatment of pulp related infection | 250 - 400€ |
| Single tooth extraction | Tooth extraction | 150€ |
Members