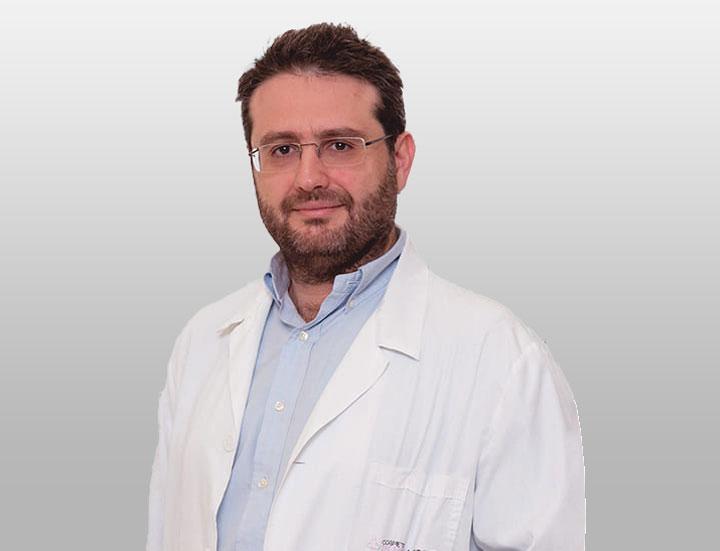 Short Bio
Dr Ioannis Dalianoudis graduated from the Medical School of the University of Ioannina in 2005. He worked as a volunteer doctor at the Plastic Surgery & Burn Trauma Clinic of the University Hospital of Ioannina.

 

After completing his military service, he worked in the General Surgery Unit of the 417 NIMTS Hospital as part of obtaining his medical specialty. He worked as a salaried physician at the Vascular Surgery Clinic of the Athens Medical Center. He completed his specialty in Plastic Surgery at Elefsina General Hospital "Thriassio" Latsio Burn Center and was awarded his title after passing the exam in 2016.

 

He successfully took the specialty exams at the European Board of Plastic Reconstructive and Aesthetic Surgery (EBOPRAS), where he has now been a member since 2016. He extended his residency at the General Hospital of Elefsina "Thriasio", where he completed his advanced training in the field of Reconstructive Microsurgery and Burn Trauma Care.

 

He is a member of the Athens Medical Association, the Hellenic Society of Plastic, Reconstructive & Aesthetic Surgery, and the European Board of Plastic Reconstructive and Aesthetic Surgery.

 

Plastic Surgery Scholarship
In 2018 he received a scholarship from the Dutch Association for Facial Plastic and Reconstructive Surgery (DAFPRS) to specialize in Facial Plastic Surgery. As part of this program, he moved to Cologne, Germany, where he specialized in Facial Aesthetic Surgery, such as facelift, mid-face lift, surgery of the peri-ocular region, and procedures following massive weight loss, under the guidance of Prof. Dirk Richter, current president of ISAPS.

 

Rhinoplasty Expertise
He continued his specialization in the field of Rhinoplasty in the World Capital of Rhinoplasty, Tehran, Iran. Every day he participated in a multitude of operations, either primary or secondary, under Prof. Babak Nikoumaram, Prof. Ali Manafi, Prof. Farhad Hafesi, Dr Hamed Bateni and others.

 

Reconstructive Microsurgery
Currently, Dr Dalianoudis is completing his doctoral thesis on Reconstructive Microsurgery on restoring neural deficiencies at the University of Ioannina. He completed his Master's degree in correcting defects in the periocular region from the School of Medicine of the National & Kapodistrian University of Athens as part of the "Surgical Anatomy" Master's program.

 

International Conference & Educational Seminars
Dr Dalianoudis has participated in numerous national and international conferences and educational seminars. His work has been featured in multiple authoritative scientific medical journals and papers at plastic surgery conferences. He has also contributed to reconstructive microsurgery training seminars as an instructor.
.
Profile
Training & Experience

Graduated from:
- The Medical School of the University of Ioannina

 

Master's Degree in Surgical Anatomy at the School of Medicine of the National & Kapodistrian University of Athens.

 

Experienced at:
- The Plastic Surgery & Burn Trauma Clinic of the University Hospital of Ioannina
- The General Surgery Unit of the 417 NIMTS Hospital
- The Vascular Surgery Clinic of the Athens Medical Center
- The Elefsina General Hospital
- The Latsio Burn Center

 

Member of:
- The Athens Medical Association
- The Hellenic Society of Plastic, Reconstructive & Aesthetic Surgery
- The European Board of Plastic Reconstructive & Aesthetic Surgery

 

He has also received a scholarship from the Dutch Association for Facial Plastic and Reconstructive Surgery (DAFPRS). He continued his specialization in the field of Rhinoplasty in the World Capital of Rhinoplasty, Tehran, Iran.

Currently he is completing his doctoral thesis on Reconstructive Microsurgery at the University of Ioannina.

He has also participated in numerous national and international conferences and educational seminars.

Clinical Interests /
Specialization

Plastic Surgery

Research Interests

Conditions Treated

Publications

Other Locations

5A Dositheous Str., Nicosia, 1071, Cyprus

Accreditation and Insurance
-
Medical Team