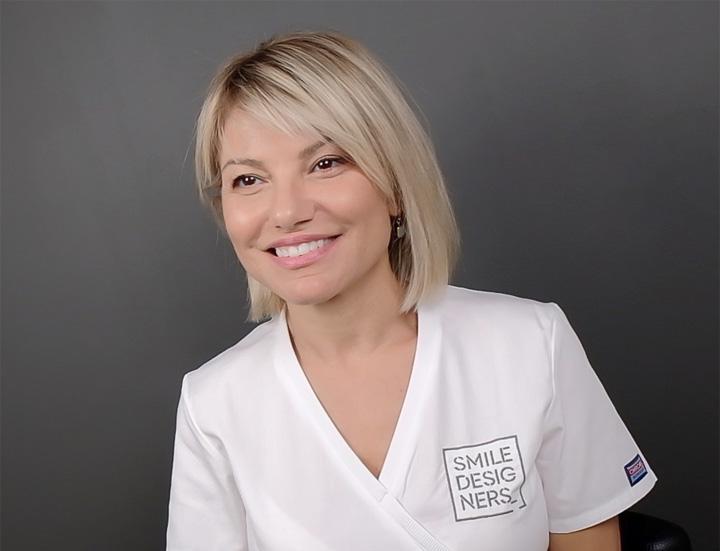 Short Bio
Dr Efstratopoulou specializes in Esthetic Reconstructive Dentistry, Prosthetics and Implants with studies in the University of Michigan, USA and more than 20 years of clinical practice.

 

Dr. Olfi (Olga – Filothei) Efstratopoulou is a graduate of Arsakeio Psychiko and a graduate of the School of Dentistry of the National and Kapodistrian University of Athens. She has passed an examination at the State Scholarship Foundation and has received a scholarship in the field of Prosthetic Dentistry.

 

She continued her studies in Esthetic and Reconstructive Dentistry in America, at the University of Michigan in Ann Arbor, where she returned with a Master of Science degree in this field (MSc in Esthetics and Restorative Dentistry).

 

She completed her postgraduate dissertation on dental esthetic materials and their bonding to dental tissues with the guidance of major dental practitioners such as Dr. O' Brien.

 

She has taught undergraduate students at the University of Michigan Dental School during her studies there.

 

She has been a University Associate Professor at the Department of Dental Surgery at the University of Athens, teaching at the laboratory and at the clinics during 1998 -2004.

 

She participates actively and continuously attends all scientific events in the field of Esthetic Dentistry in Greece and abroad. She has participated in a number of conventions as a speaker with papers on her research work. She has participated in the teaching of postgraduate education seminars at the University of Athens and the Society of Dental Research.

 

She maintains a private clinic that specializes in Cosmetic Dentistry and Prosthetic Rehabilitation since 1998.
.
Profile
Training & Experience

Bachelor's  Degree in Dentistry (DDS) from the Dental School of National and Kapodistrian Uniersity of Athens Greece
Master's Degree (MSc) in Cosmetic and Restorative Dentistry from the School of Dentistry, University of Michigan, Ann Arbor, USA

Clinical Interests /
Specialization

Cosmetic Dentistry
Prosthodontics
Implants

Research Interests

Various research papers with Dr O' Bien at the University of Michigan, Ann Arbor, USA

Conditions Treated

Smile Makeover, Ultra Thin Veneers, Porcelain Veneers, Zirconia Crowns, E-max Crowns, Dental Implants, Invisible Braces / Invisalign, Pain Free Anesthesia, Tooth Whitening

Publications

Multiple publications with Dr O' Bien at the University of Michigan, Ann Arbor, USA

Other Locations

Accreditation and Insurance
-
Medical Team
Reconstructive and Aesthetic Dentistry