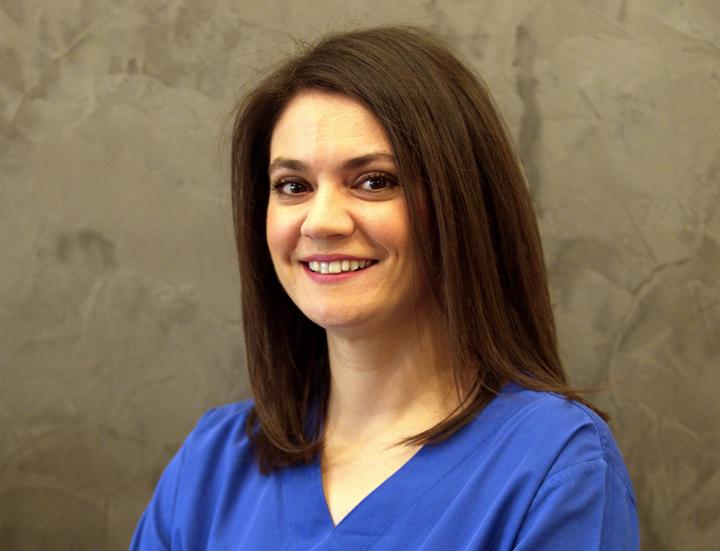 Short Bio
She received her degree from the Dental School of Athens. During that time, she also worked as a dental assistant at a prosthodontics and periodontics practice. Upon graduating, she practiced general dentistry in the same practice. In 2008 she started her postgraduate studies in Prosthodontics in the same University.

 

After obtaining her MSc in Prosthodontics degree, her interest in research led her to the University of Freiburg, Germany, where she obtained her doctorate degree (Dr.med.dent.) at the Department of Operative Dentistry and Periodontology.

 

Since returning from Germany, Dr. Petropoulou is a clinical associate at Dr. Silvestro's practice in Athens. Meanwhile, she is a clinical instructor at the Prosthodontic Department of Dental School of Athens, for both under- and post-graduate students. She has published several articles in International Dental Journals, mostly in the field of Prosthodontics. Since 2016, she is an EPA (European Prosthodontic Association) recognized Specialist in Prosthetic Dentistry.
.
Profile
Training & Experience

2009-2011: Working as an associate in a private dental clinic in Athens.

2011-2013: Guest Assistant Professor, Department of Operative Dentistry and Periodontology, University Medical Center Freiburg, Dental School and Hospital, Freiburg, Germany.

2013-present: Working as a Prosthodontist (associate) in a private dental clinic in Athens (PERIOIASIS).

2013-present: Research fellow and clinical instructor in the Department of Prosthodontics, School of Dentistry, National and Kapodistrian University of Athens, Greece.

Clinical Interests /
Specialization

Prostodontics

Restorative And Esthetic Dentistry

Implants Rehabilitation

Research Interests

Dental Materials

Prosthetic

Dentistry

Conditions Treated

Dental Caries

Teeth Discoloration

Teeth Abrasion

Missing Teeth

Edentulism

Publications

Ntounis A, Petropoulou A. A technique for managing and accurate registration of periimplant soft tissues. J Prosthet Dent. 2010 Oct;104(4):276-9.

 

Petropoulou A, Pappa E, Pelekanos S. Esthetic considerations when replacing missing maxillary incisors with implants: A clinical report. J Prosthet Dent. 2013 Mar;108(3):140-4. Petropoulou A, Pantzari F, Nomikos N, Chronopoulos V, Kourtis S. The use of indirect resin composites in clinical practice: A case series. Dentistry 2013; 3:3.

 

Petropoulou A, Vrochari A, Stampf S, Hellwig E, Polydorou O. Water sorption and water solubility of self-etching and self- adhesive resin cements. J Prosth Dent 2015 Nov;114(5):674-9. Vrochari A, Petropoulou A, Chronopoulos V, Polydorou O, Massey W, Hellwig E. Evaluation of surface roughness of ceramic and resin composite material used for conservative indirect restorations, after repolishing by intraoral means. J Prosthodont 2017;26(4):296-301.

 

Petropoulou A, Papadopoulos T, Pelekanos S. Color coincidence of resin cements and their try-in pastes when bonding porcelain veneers. An in-vitro study. Honorary volume for Professor Asterios Doukoudakis 2017:286-295. Petropoulou A, Dimitriadi M, Zinelis S, Sarafianou A, Eliades G. Surface characteristics and color stability of gingiva-colored resin composites. Materials (Basel) 2020 Jun 3;13(11).

Other Locations

Accreditation and Insurance
-
Medical Team
Periodontics and Implant Dentistry

 

Endodontics